This page last updated on 2-10-2017
Marylambs is a homey, cozy cattery in the foothills of the Pocono Mountains of Kresgeville, PA. We vaccinate and veterinarian check all of our Maine Coon kittens, ensuring we deliver only happy, healthy kitties to your home. The quality and temperament of these cats is what has earned us a reputation as Pennsylvania's premier cat breeders.
Receiving only the best care and the finest meals, our Maine Coon kittens are well adjusted, healthy, and ready to join your home.
Browse through the photos of our available kittens below, and call 610-681-6664 or Send an Email to reserve an available kitten today.
MAINE COON KITTENS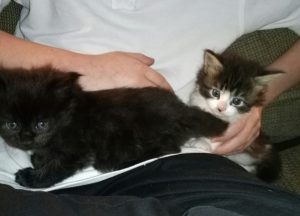 Black female and Brown tabby with white male born 1-5-17
More kittens coming soon!  Pictures are posted when kittens reach 4 weeks of age.
PLEASE CALL OR EMAIL FOR AVAILABILITY
610-681-6664
A DEPOSIT WILL RESERVE YOUR KITTEN